Voice Over IP & Business Internet Access
Denver area's best and most affordable provider of both T1 Internet access and voice over IP phone lines.
Featured Benefits
NO paying for telephone company local loop costs for a hardwired T1 connection.
NO waiting weeks for a hardwire installation. Installations usually take place within days.
NO dealing with "variable" bandwidth on shared lines in times of high network traffic.
Business Services Telecommunication VOIP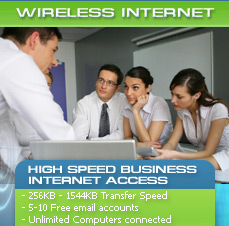 We strive to utilize the most-recent industry techniques and standards that will assure that your business internet connection is reliable. Since our operations work independently from the system of any telephone company, we can install all the necessary equipment to connect you to the internet within days not weeks.
Bandwith Options
1.0 Mbps Internet
1.5 Mbps Internet
3 Mbps Internet
5 Mbps Internet
10 Mbps Internet
20 Mbps Internet
For larger bandwidth needs, please call 303-424-0770 for pricing.
More Informaiton On Our Business Internet Access